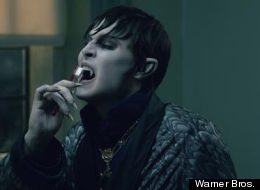 You don't have to be a movie genius to know who will rule the box office this weekend. With "The Avengers" wiping the floor with every other blockbuster ever, audiences will likely continue to assemble.
However, if you think there's a little too much life in the Joss Whedon opus, its weekend competitor, "Dark Shadows," might be more to your taste. This weekend, Tim Burton's vampiric comedy is the only new release going head-to-head against the action juggernaut.
So! Let's take a look at this David vs. Goliath tale, and the box-office predictions, in Moviefone's Weekend Movie Preview.
NATIONWIDE RELEASES
"Dark Shadows"
What's the story? Based on the 1960s gothic television soap, "Dark Shadows" follows imprisoned vampire, Barnabas Collins (Johnny Depp), who awakens from a 200-year slumber to settle a score with a jealous witch.
Box-office prediction: While "Dark Shadows" may not have enough muscle to take out "The Avengers," it will pull its weight. The Burton-Depp combo is a tried and true match (also, never underestimate a camp classic reboot). Opening in 3,755 theaters including IMAX venues, the film could bring in a respectable $38 million. (To see what the critics are saying about it, check out the review roundup in the gallery below.)
LIMITED RELEASES
If comic book heroes and vampires aren't your thing, there are a ton of limited releases arriving this weekend. Chloe Moretz grows up a little too quickly in "Hick"; Eva Mendes learns how to parent in "Girl in Progress"; Jason Ritter and Jake Sandvig right their car-stealing ways in "A Bag of Hammers"; "Under African Skies" narrates the making of Paul Simon's legendary album, "Graceland"; newly unearthed "Steve Jobs: The Lost Interview" offers a private view at the late visionary; a couple buys a house too good to be true until they realize heroine is lined with drugs in "Stash House"; a man seeking a new life in Mexico finds it more difficult than anticipated in "El Gringo"; in "Dragon Eyes," Jean-Claude Van Damme endeavors to free a town from its pervasive gang violence; "Nesting" finds a once-hipster couple longing for their adventurous youth in "Nesting."