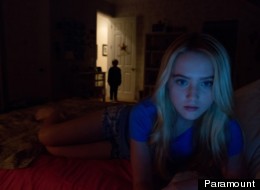 Well, Fall is officially here. You can see it in the changing color of the leaves, the way the temperature has dropped sharply and the fact that there is a new installment in the wildly successful "Paranormal Activity" series in theaters. For the last four years we've been treated to a succession of films with scary door slams, ominous shadows and fuzzy "found footage," the latest of which goes down this weekend in the franchise's fourth installment.
So, is this yet another tired chapter in a horror series or the rare horror sequel that's actually scary-good? Read on to find out in the Pros and Cons of "Paranormal Activity 4."
PRO: It's Not Another "Saw" Movie
The only other horror franchise in recent memory to deliver movies with this kind of annual regularity was Lionsgate's gore-soaked "Saw" franchise. While the original film was a semi-clever campfire story ("Did you hear the one about the guy who sawed off his own foot?"), the subsequent movies were more ludicrous and less thoughtful or coherent. Instead of advancing the narrative or elaborating on the series quote unquote mythology, it just served up a bunch of humorless violence without any kind of additional moral, ethical, political, or symbolic dimension. The latter entries, in particular, were so hopelessly convoluted that the gross-out gags didn't even connect. How could you even have fun with the splatter when you could barely understand what was happening with the rest of the movie? Thank god those are over with.
CON: It Is Another "Paranormal Activity" Movie
"Paranormal Activity 4″ is the clearest case for the franchise to be shut down as a whole. After a brief stint in the eighties in the third one, we're back to present day-ish (2011), and the events surrounding the spooky happenings of the first two films (the second of which was kind of like a sideways sequel, telling a parallel tail to the first movie). Adding to the hidden camera gimmick of the first film are extensive Skype conversations between the family's teenage daughter and her boyfriend. Someone should have told the filmmakers that this was done much better in "V/H/S." Besides that, so little is done with the format that it's honestly hard to care. Forget about any further installments, it was tough enough getting through this one.
CON: The Series' Mythology Remains Vague and Untapped
With two straight sequels and one prequel, you'd think that this story would now have some rich mythology, or at least touchstones, both thematic and visual, that could be openly referenced. But no. There's still some vague notion about witches and black magic and maybe demons or ghosts or something. There have been four movies and we've never seen, concretely, any kind of monster or boogieman or anything. Instead it's still shadowy, hard-to-make-out shapes and loud noises that come from just off-camera. There is a more overt reference to witches in this one, although that is still left largely obscured. Back in the eighties, our horror franchises had much more stuff going on — just look at "Nightmare on Elm Street"; by this point in the series we already had Westin Hills, Freddy's horrifying back story and a number of narrative and thematic points that could be hit upon, again and again. Here we have a blurry shape that maybe looks like a dude. Bravo!
CON: It's Not Very Scary
How many times can we be scared by a cat jumping in front of a camera? There are many more logistical and motivational issues in this movie, too, and while there is a sort of nifty twist to one of the characters, it isn't enough to rescue the movie from the horror sequel doldrums.
PRO: The Bathtub Scene
There's a scene where there's a little kid in the bathtub, and it is really scary and also the only thing in the movie even remotely spiritual or allegorical. But I'm not going to spoil it here. Just know that if you have to use the bathroom and see a little kid in a bathtub, save it until after that sequence is done. (Then thank me on here afterwards.)
PRO: The Performances
The performances, all by actors pretending not to be, are dead-on, especially the guy who plays the family's absentee patriarch. He radiates a feeling of lived-in manliness, the head of the household but somebody who doesn't want to make a big stink about it. All the kids are great, too, including the two younger boys and older girl who is dating a handy dude with flippy hair, especially when they're called upon to look terrified and bewildered.
CON: The Overt Horror Movie References
At one point, one of the kids is riding a low-slung tricycle, in literally the same manner as "The Shining," except, instead of being accompanied by a swoopy Steadicam shot, it's captured by a static computer camera. (Once again, the question of who found the footage and assembled it into a cohesive whole, is never explained. This would have been a crime scene, after all, and the footage could have been evidence in a major trial.) There's another moment where the kid stares blankly at a static-washed Xbox Kinect, which is meant to evoke the classic opening for Tobe Hooper and Steven Spielberg's "Poltergeist." It doesn't.
CON: It's Yet Another Not-So-Scary Halloween
Since "Sinister" was kind of a dud and with "Frankenweenie" seemingly hemorrhaging money from the studio that brought it to life, we're left with very little in the way of genuine opportunities for spooky-fun theatrical experiences this Halloween (I would recommend Barry Levinson's gonzo eco-horror thriller "The Bay," but it doesn't open until two weeks after Halloween). This entry might use the most amount of Boo! scares in the entire franchise, things like doors opening or cats scuttling through frame. Oh, you got me!
PRO: It's Pretty Short
Because we've all got lives, people. And we certainly don't want to spend those lives sitting around watching "Paranormal Activity 4." Like a chump.
RELATED: The Scariest Ghosts in Movie History