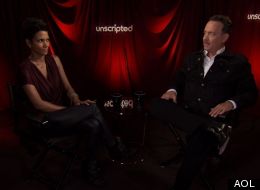 "You have chosen C-L-O-U-D A-T-L-A-S," this according to Tom Hanks and Halle Berry in Moviefone's newest edition of Unscripted. Here, the two stars talk about — you guessed it — their upcoming film "Cloud Atlas," a (very) ambitious adaptation of the book by David Mitchell. In the movie, Berry and Hanks play six (!) different characters in a story that spans across hundreds of years and planets, focusing on themes such as reincarnation, the apocalypse and love.
During this Unscripted session, the two stars discussed the difficulty of portraying different parts (in the case of Berry, she did some of it on a broken foot!), what they would come back as if they were reincarnated and love advice (a question Berry hands off to Hanks after jokingly admitting that she's "had issues in this area"). Also, they both discuss, Berry's first ever movie role as a "foul-mouthed, crack-smoking ho" (her words) in Spike Lee's "Jungle Fever," a fact that isn't lost on Hanks, who manages to repeat that phrase continuously over the next minute.
You can watch the entire clip — along with several outtakes — in the video player above. "Cloud Atlas," starring Berry, Hanks, Hugo Weaving, Jim Broadbent and Hugo Weaving, hits theaters nationwide this Friday.