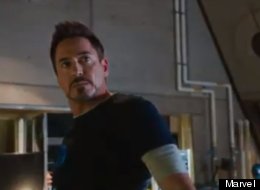 Following in the meta-tradition of teasers for trailers, Marvel has released a 17-second clip of "Iron Man 3."
In the third installment, Robert Downey Jr. returns as the self-aggrandizing philanthropist, playboy superhero. Details surrounding the film's plot have been hush-hush, however a few hints were dropped at this year's Comic-Con.
Back in July, an ambiguous Kevin Feige teased that Bruce Banner, aka The Hulk, may have a cameo in the film.
"Well, if you remember at the end of 'The Avengers,' [Bruce] jumped in the car with Tony, and Tony dropped him off at the Port Authority and we'll see him again some day."
Take a look at the teaser above and be sure to check back tomorrow when the full trailer's released.
"Iron Man 3″ will hit theaters May 3, 2013.