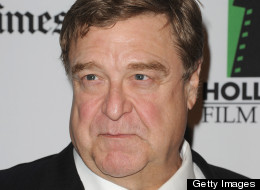 In "Flight," which hits theaters this Friday, John Goodman plays Harling Mays. Mays is a friend/drug dealer of Whip Whitaker's (Denzel Washington), an airline pilot whose alcoholism has him embroiled in a scandal. Throughout the movie, Whitaker faces the constant internal struggle of whether he should or shouldn't drink — a reality Goodman is familiar with from his own life.
"I'd have the shakes so bad I'd have to have a drink to get through [a] show. I'm lucky I never got fired," Goodman tells New York. The actor has been sober since 2007, however, when asked about his past troubles with drinking, he was very frank. "It was terrible for my family… If I'd picture in my mind a drink — usually straight out of the ­bottle — I couldn't not do it." Today, he tries to attend an Alcoholics Anonymous meeting every morning.
As for his career, Goodman has had a busy 2012, with both "Flight" and the Oscar favorite "Argo" both in theaters. Next year, he is set to appear in the Coen brother's "Inside Llewyn Davis." Although it will be his fifth film with the directing duo, it's been 12 years since his last project with them, making him originally think that he'd done something wrong. "In the back of my mind, I wondered if I'd screwed up somehow," Goodman says. "I never showed up drunk on set with them, but I always wondered if it had to do with that, something they'd heard," as Goodman later called it "alcoholics' anxiety."
You can read more about Goodman's struggles with alcoholism, and roles in his upcoming films, over on NYMag.com. "Flight," starring Goodman, Washington and Don Cheadle, hits theaters on Friday.
RELATED: 14 Films That Will Make You Never Want To Fly Again